My parents Billet for the local WHL team. THis year they had a very talented 6'6" hockey player living with them from Slovakia. Juraj Valach, affectionately refered to as "Big Guy."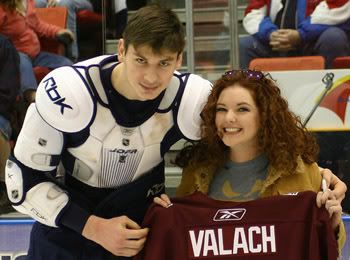 Juraj and McP in happier times...
He wasn't the first Slovak they've had in (the former) Casa McP, but he was the youngest - he was 17 when he arrived and didn't have a drivers license to drive the car the 'rents provide the player living at their house (legal age to drive in Slovakia is 18).
His play deteriorated in the 2nd 1/2 of the season - no one really knows why except for maybe he was homesick? That makes the most sense b/c he picked his play up a little when the team flew his sister over from Slovakia in February/March. (she stayed at my parent's house for two weeks.) After that, with the exception of the game winning goal in OT of game 4 of the 1st round of playoffs, it seemed all he did was take stupid penalties (possibly b/c he wasn't taught how not to) and whine about not getting enough ice time.
So the day of the WHL Euro draft, my parents got a call from Annie Fowler of the TCHerald reguarding the comments Big Guy had made. Here's part of the article resulting from that phone conversation:
"Ams trade Valach to Vancouver, take 2 in import draft
This story was published Thursday, June 28th, 2007
ANNIE FOWLER HERALD STAFF WRITER

When Bob Tory lost veteran defenseman Matt Swaby in the Edmonton Oil Kings expansion draft June 5, he was confident the Tri-City Americans defensive corps would be solid with the return of Juraj Valach, T.J. Fast, Jarrett Toll, Tyler Schmidt, Eric Mestery and Brock Cornish.

What the Americans general manager did not foresee was Valach not returning to the team. The 6-foot-6, 210-pounder from Slovakia notified Tory earlier this week that he would not return to the Western Hockey League unless he was traded.

So, Tory traded Valach to the Vancouver Giants for their 54th overall pick in Wednesday's Canadian Hockey League Import Draft.

"We had a curveball thown our way," Tory said. "It was surprising and a little shocking. We spent a lot of time developing him. He said he did not enjoy his time in
Tri-Cities and blamed the team for him not being drafted last week (in the NHL entry draft). If he doesn't want to be here, I don't want him in the dressing room. He's not our worry anymore."

Valach's billets, Ma and Pa McP of Kennewick, went to the NHL Draft in Columbus, Ohio, in hopes that Valach would be drafted.

"He told us before he went home in April that if he wasn't drafted he wouldn't come back," said Ma. "He did not like having to make public appearances with the team. He didn't have the community spirit; he came to play hockey. I hope he's happy in Vancouver, but I don't think he will be happy unless he's playing at home (Slovakia)." ..."

SO yeah.... That kid was pampered here in the Tri-Cities. It came out later that he had even fired his agent and gotten a new one, which Bob thinks had a lot to to with the whole thing. Let me weigh in with
my opinion
of why he didn't get drafted:
note: I am not nor have I ever been affiliated with any NHL team, nor am I a coach/gm/scout.
When you aren't willing to buy into the system and be a part of the team, you're not going to put up the numbers/stats that you're capable of.
When you aren't willing to learn how to use your large, large body for something other than taking penalties, you're not living up to your potential or taking advantage of the opportunity you have playing in the Canadian Hockey League.
Constantly calling the coach an idiot isn't going to make him any easier to get along with. Maybe there's a reason you're riding the pine that doesn't have to do with your playing.
Many employers check the myspace of people they're going to hire. I think NHL teams may just do the same thing, it'd be something I'd do to see if the kid was someone I wanted in my organization. If those teams looked at his myspace when I did, they would cross him off the short-list - hell, even the long list - ASAP. I spent an entire day wondering if my parents were living with an anti-semite b/c the whole page was covered in neo-nazi/hitler crap. I emailed him to see wtf was up and he said that the guys in the locker room called him a nazi, so he put all that up trying to fit in. This little Jew was NOT impressed. At all. Tell the other teammates to come talk to my mom or I about the Nazis, the halocaust or the stars-of-david we wear around our neck.
Hockey players are the worst gossips of anyone I have ever met in my life. They're worse than high school girls by FAR. This creates a HUGE network of men who talk and talk and talk.... Maybe he forgot that his coach was a part of the Hartford Whalers (80-82), Edmonton Oilers (82-83 with Gretzky and Messier), and the Philadelphia Flyers (85-90). THEN he went on to coach in Seattle fron 94-00 and then for the Philly Phantoms before coming back to the Dub to coach here. That's a shit-ton of contacts, kid. And we all know Donny doesn't hold back on telling people what he really thinks about ANYONE. Think about that.
Don Nachbaur will seem like a kitten compared to Don Hay (who coached here 2 coaches before Schnacks). He will still be expected to be out in the community, he will still have a few asshat teammates who aren't as nice as he'd like and he's not going to have a billet that does EVERYTHING for him like my saint of a Ma did.
I know his comments weren't directed at my family. If he would've been unhappy in the house he could've moved like several other boys did during the season, but it doesn't make his actions any less classless or hurtful. He could've at least done it before the expansion draft so we'd still have Matty.... Ugh... our D... Please, LA, send TJ Fast back to us!!!