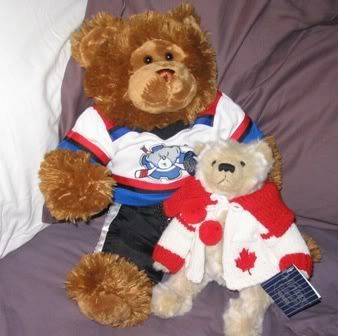 Todd Beartuzzi and the Good Luck bear Megan sent me with the lucky CAN penny in his pocket rooting the Sens on in my absence.
Disclaimer: (Mostly to calm Roomie's fears)
I promise I'm not Teddy-obsessed. They were gifts.


After spending all day boating on the mighty Columbia River in the 100 degree (38*C for my metric friends) heat, I decided that the running blog would become a slow jog tonight. I listened to the game on the satelite radio on the boat and am now tucked securely into my bed, watching the DVR'd action.

NHL on NBC... Papa Clement, Mamabear Brett Hull and little Ray Ferraro. It's a damn good thing i like Papa bear and baby bear, because Mamabear makes me want to light my face on fire.

Pierre McGuire interviews (Margee's beloved) Heatley. He can hardly hear the bald man speak over the crowd love. I'd give my little brother's right testicle to be there. What?! He only needs one... and I'm sure his wife wouldn't mind... much...

As a vocalist, and an anthem singer, there's nothing quite like the announcer reminding you that MILLIONS of people are watching/listening/waiting for you to screw up. He did a BEAUTIFUL job on the Star Spangled Banner. It's one of the hardest songs to sing, but he did it at a great tempo and what a moving vibrato! .... And O Canada, is there a more beautiful song than that, the anthem of the Homeland? I submit that there is not.

20:00 Neil and Moen start the game off right. LOVE IT!

19:38 I still can't get over how fast these teams are when they're both at the top of their games and the height of their emotions.

17:58 Emery makes that look so simple. "No biggie, you guys. I do this every day."

16:09 And the first penalty of the game goes to..... The Keeper of the Brows, Wade Redden!

14:21 And the first goal of the game goes to...... The Anaheim Ducks? Traps McDonald? le sigh.

3:50 OTTAWA SCORES!!!! Baby Hailey's Toothless Daddy scores for the Sens. She's their new good luck charm.

1:03... name that squirt. Baby Mario. Sans Mullet.

(insert McPhizzle snoring here... Cut to 8:51PM PST on 03 JUN. Spent the day with Ma and Pa, watching the BEST LONGEST MOVIE EVER, POTC:3 and avoiding anything hockey I could as to not spoil any more of the visual action than nesseccary.)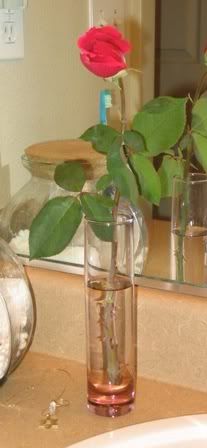 Mom sent me home with a "Sens Rose" from the rose bush that is taking over the world. It's proudly displayed in my washroom.

1st Intermission. The Golden Child speaks. hard to believe that he's a mite under 20. What was I doing at that age? I was finishing my 2nd year of College and working at Victoria's Secret. That's the same as being the Captain of an NHL team, the league's leading scorer and up for 2 more awards, right?
"There he is, in the drapery, The legend, Don Cherry." OH Papa Clement, how I love thee. I don't know if mainstream America is ready for Don Cherry. I guess we'll find out on Monday when he joins in the NHL on NBC fun!
19:00 Strong start for Ottawa. I'm liking the way this is starting, boys. You're sparking McPhizzle's little heart.
17:56 Spezza and Pahlsson mugging it a little on the boards. You get 'im, Jason! Ooh.. the Tearaway jersey. Hammer's text, "He should just take it all off" makes a lot more sense now.
16:43 McAmmond getting that shot ahead was beauty
16:21 Jersey sharing? I wonder if he got to pick whose sweater he wanted. Or if they asked Eaves. i can see it now, just like sisters, "COACH! he took my jersey and didn't even ASK!!! You love Jason more! I knew it!"
14:40 Perry scores on a Phillips turn over. Sens didn't even realize it had gone in, they're still banging at it.
14:13 Shot from the point gets in past Giguere b/c the Quacks only had 4 skaters on the ice. Way to take advantage of that Volchenkov!
12:22 Getzlaf gets that goal back. Damnit.
10:20 Quick reaction by Giggy to direct the puck into the mesh so he could get a sip of water from his straw.
9:53 Giggy talking about Pronger. "It's nice to have him around." Of course it is. It's always better to have for you rather than against you - no one likes being elbowed in the head.
9:25 McAmmond lost showdown in practice and is now the Juice Boy. Gotta love Mike Comrie giving that bit of info to the media. :)
4:54 Are they really playing circus music behind Speedy!Spezza? Oh, NBC... *sigh*
4:21 The parade to the Penalty box continues as the puck ALMOST goes in the net... Giggy = glad there ar only 4 minutes that he has to stay in net with that brick in his hockey underwear.
3:46 Goal...??? Let's review... Alffie's trying to stop? OH yes. That would be a GOAL.
1:26 Juice boy scores!!! Well, ok, so it was Pronger, but they can't really announce that. Karma's a bitch, ain't it?
00:00 Pierre McGuire interviews (my husband) Mike Fisher. The little bruise under his left eye just adds to the love.
2nd Intermission.
MamaBear Hull is back. "That's a bad goal," he says about the Volchenkov goal. No, that was good, the Quacks just can't count - flippers don't work as well for that as fingers and toes do.
Now he's talking about the Alfredsson goal. SHUTUPSHUTUPSHUTUP! I can handle Papa Clement and Lil Ferraro, but not "Hully." "This is the Stanley cup finals!" Oh yeah? So was the 'goal' you scored in '99, asshat.
19:24 Schaeffer on the partial break from (my husband) Fisher. Again, a good start. I dig it.
17:57 Pronger lays out McAmmond with an elbow to the face and he hit his head on the ice and then on the boards. Head injuries are scary stuff, skippy. You never want to see someone on the ice like that, no matter which side they're on. NO PENALTY?! Good grief. Ok, so I know he's suspended (text from Hammer earlier today), but COME on.
17:05 Emotions are running high and Ryan Getzlaf tries to make out with (my husband) Mike Fisher, and like the gentleman he is, Mike refuses. Of course Ryan's feelings of frustration after the rejection are to be expected, but is swearing at the nice man who held back when he could've mangled your face really neccessary, Getzy? No, no it's not.
OMGSh! BABY EMERY with the BOXING GLOVES?! I want 3.
15:51 Moen tries to break and Emery flops like the miraculous fish he is to make the save. LURVE. GOALIES.
14:17 May takes a penalty. Great discipline, Quacks.
11:38 Volchenkov with number two on the evening and Goalie Quack gets a little refreshment from his straw.
10:00 This is about the time I got home and turned the game on as I was getting ready to go out to Blinky's show...
8:55 Getzlaf Loves the box AND the "F" word. I think SOMEONE has some pent-up anger about his thinning hair. Displacement isn't healthy, Ryan.
8:01 Has Teemu Lightyear been on the ice at all before now? Or was he hanging out with Woody in the locker room? What a non-presence tonight.
5:25 "I'm Lauren's Bitch" Pronger sits on the bench, showing off that gap-toothed grin. McPhizzle's nostrils flare. Not attractive, but true.
4:31 Traps McDonald revisits the 'bad boy box' for a time out because his muscular shoulders made Emery lose an edge right outside the crease. I should check the scoresheet to see if he got 2:00 for Excessive Creatine.
Well, Sens fans, they're back in it. We'll be back tomorrow night, same bat time, same bat channel.